Report calls for diversification in Latin American economic ties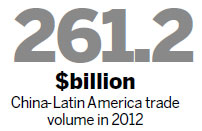 China should diversify its economic relationship with Latin America and the Caribbean and drop its previous model of relying more on trade, according to a "yellow book" by the Chinese Academy of Social Sciences released on Thursday.
Cooperation with the region would not only boost trade but also promote more investment and financial ties, said the Annual Report on Latin America and the Caribbean (2012-13).
In 2012, China became Latin America's second-largest trade partner and its major investment source, with bilateral trade volume hitting $261.2 billion, a year-on-year growth of 8.2 percent, according to the publication.
But trade is concentrated on a few countries and a few products. Previous statistics show that Brazil, Chile and Argentina account for nearly 80 percent of the region's exports to China.
China should also diversify its cooperation with different Latin American organizations, such as the Pacific Alliance and South American Common Market, according to Wu Baiyi, a CASS researcher specializing in Latin America's economy.
As the yellow book noted, China's contacts with the regional organizations are still in the early stages.
Publication of the yellow book comes ahead of state visits by President Xi Jinping to Trinidad and Tobago, Costa Rica and Mexico from May 31 to June 6.
Xi's visits - the first by a Chinese president to Trinidad and Tobago and the English-speaking Caribbean - is considered an opportunity to increase political trust and consolidate friendships, according to the Foreign Ministry.
The publication indicates new opportunities between China and Mexico since its new president took office in December.
Mexico's new president, Enrique Pena Nieto, came to Hainan province in April to attend the Boao Forum and expressed his interest in expanding relations with China.
Although economic ties between China and Latin America are rising, experts point out the urgent need to solidify connections.
To further implement China's policy in Latin America, the role of local Chinese should be highlighted, while study and research on China should be encouraged, according to Sun Hongbo, a CASS researcher on China-Latin American relations.
The desire to learn Chinese language is on the rise in the region. China so far has established 25 Confucius Institutes around the region, according to the "yellow book."
The Chinese government supports setting up Chinese cultural centers in this region and will offer 5,000 scholarships to Latin American and Caribbean countries in the next five years.
qinzhongwei@chinadaily.com.cn
(China Daily 05/24/2013 page11)
Today's Top News
Editor's picks
Most Viewed