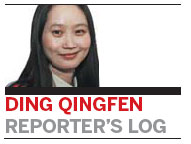 Applause rose in India's premier hotel, the Taj Palace in New Delhi, as Premier Li Keqiang took the stage and offered a common Indian greeting.
"Namaste!" the premier began.
"Twenty-seven years ago, I came here as leader of the Chinese youth organization and I learned some Indian words. Since then, I have had little opportunity to practice them. Although I don't know whether my pronunciation today is correct or not, I uttered it from the bottom of my heart," he told a group of academics, representatives from think tanks and Indian officials.