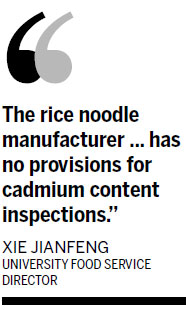 The authorities in Guangdong's provincial capital promised to expand inspections of rice and related products after detecting eight batches of tainted rice and rice noodles.
The move aims to ensure only quality rice, rice noodles and related products are sold in the southern metropolis where the grain is a staple food, according to a statement on the Guangzhou Food and Drug Administration's website.
The administration launched an inspection campaign in recent weeks and found the cadmium content of six batches of rice and another two batches of rice noodles exceeded national standards.