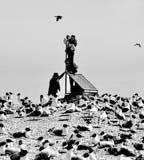 Highlights from chinadaily.com.cn
Photo: Workers install electronic surveillance equipment to monitor migratory birds along Qinghai Lake, the largest saltwater lake in China. More than 100,000 birds gather at the lake from the south every year. The monitoring system will check for epidemics and help with environmental protection efforts.
Bilingual: Retirement has a detrimental impact on mental and physical health, a new study has found. The study, published by the Institute of Economic Affairs, a United Kingdom-based think tank, found that retirement results in a "drastic decline in health" in the medium and long term. The institute said the study suggests people should work longer years for health as well as economic reasons.