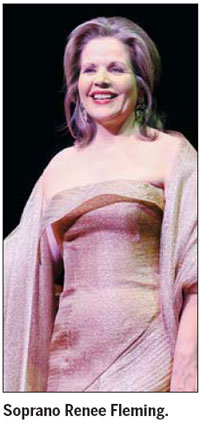 Soprano Renee Fleming, acclaimed as "America's most beautiful voice", will debut in Guangzhou on Friday, after a successful showcase in Beijing last Sunday, as part of the Meet in Beijing Arts Festival.
The opera diva's connections with China are deeper than just concert tours. Her experience with vocal arts in China comes from her fellow students at the Eastman School of Music and the Juilliard School, and she gave a master class in Shanghai in 2007.
"There is no question that a choral tradition has fueled a desire to sing and the tonal quality of Mandarin and Cantonese makes for much musical talent," Fleming says.