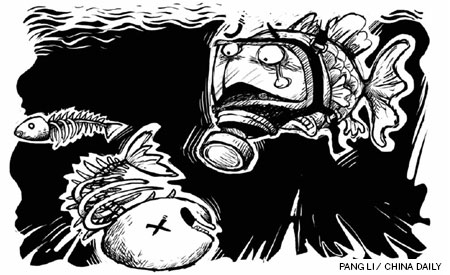 Steady deterioration of water bodies is one of the most pressing problems facing the world today. In Asia, degradation of water quality and the problems it spawns are so extensive and serious that they are threatening to harm economic growth and affect the health and quality of life of billions of people.
China's high economic growth has had an adverse impact in terms of access, volume and quality of water as well as equity, management and investment requirements. While the magnitude of the water quality problem has steadily widened, planning, management and institutional capacities have not improved commensurately, and thus complicated matters further.
Water scarcity and pollution of water sources are two of the most serious problems for China. Pollution has now spread from the coastal region to inland water bodies, affecting both surface water and groundwater. More than 53 billion tons of (untreated or inadequately treated) wastewater is discharged into China's water bodies every year. And as early as 2006, water in a stretch of more than 25,000 km of rivers failed to meet the quality standards for aquatic life and about 90 percent sections of rivers in and around urban areas were seriously polluted. The World Bank estimates that water scarcity and pollution are costing China about 2.3 percent of GDP - 1.3 percent due to water scarcity and the rest as a direct impact of water pollution.