Warriors beat Spurs away for first time in 31 tries
Golden State coach Mark Jackson insisted the Warriors' historic collapse in the opener of the Western Conference semifinals would only help his team's growth.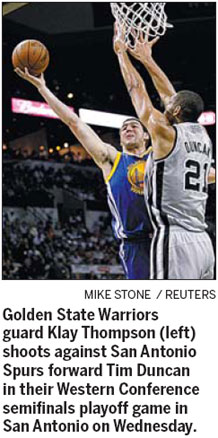 The young Warriors took a big step in their development on Wednesday night, withstanding another furious rally by the San Antonio Spurs for a 100-91 victory to even their series at one game apiece and snap a 30-game skid in the Alamo City.
Klay Thompson had a career-high 34 points and 14 rebounds, and Stephen Curry added 22 points for Golden State, which had not won in San Antonio since Feb 14, 1997. None of the losses was as painful as the one on Monday.

Today's Top News
Editor's picks
Most Viewed