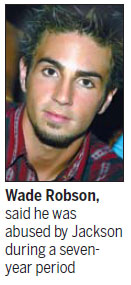 A choreographer and television personality who was a key witness in Michael Jackson's successful defense against child molestation charges is seeking permission to file a claim against the singer's estate alleging the pop superstar sexually abused him as a child, court records and an attorney said.
Wade Robson was abused by Jackson during a seven-year period, the choreographer's attorney, Henry Gradstein, wrote in a statement on Wednesday. The attorney said Robson, 30, suffered a breakdown last year. Gradstein has not stated how much money his client is seeking from Jackson's estate if a judge permits him to pursue his abuse allegations.
Details of Robson's accusations were filed under seal.
The molestation allegations have been fiercely denied by an attorney for Jackson's estate and the singer's criminal defense attorney, Thomas Mesereau Jr.
"Mr Robson was one of my strongest witnesses in Michael Jackson's criminal trial," Mesereau said. "I called him to the stand at the beginning of the defense case and he was adamant that he had never been improperly touched or molested. This makes no sense."
Robson was the first defense witness during the 2005 trial that ended with Jackson's acquittal on molestation charges. He also spoke favorably about Jackson after the singer's death in June 2009.
"Last year, on a career trajectory that was off the charts, (Robson) collapsed under the stress and sexual trauma of what had happened to him for seven years as a child," Gradstein wrote in a statement that referred to Jackson as a sexual predator.
"There are significant legal issues involved in this case that have the potential to impact lives beyond just our client," he wrote.
Gradstein said he could not discuss specifics of the case, but he cited Robson's recent breakdown as the choreographer's reason for reversing his previous statements about Jackson. "As a result, he started intensive treatment which ultimately led to his ability to come forward," Gradstein said.
Robson, an Australian-born choreographer, has appeared on the Fox series So You Think You Can Dance and worked with Britney Spears and other stars.
"Mr Robson's claim is outrageous and pathetic," Jackson estate attorney Howard Weitzman wrote in a statement. "This is a young man who has testified at least twice under oath over the past 20 years and said in numerous interviews that Michael Jackson never did anything inappropriate to him or with him. Now, nearly four years after Michael has passed, this sad and less than credible claim has been made. We are confident that the court will see this for what it is."
(China Daily 05/10/2013 page10)