Hollande election anniversary incites protests across France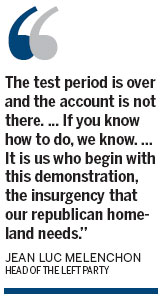 As the Socialists mark their first year in office, tens of thousands of protesters marched in towns across France on Sunday against French President Francois Hollande's growth and job policy.
The march, organized by the Left Front coalition, drew a range of left-wingers, from greens to trade unionists, to the symbolic venue of Bastille Square, site of a Paris prison that was stormed during the French Revolution of 1789.
Some 180,000 demonstrators chanted "resistance" in the Square of Bastille, expressing their refusal of the government's labor deal, retirement plan and austerity measures, the Left Party's figures showed.
According to police data, only 30,000 people participated in Sunday's protest, led by Jean Luc Melenchon, head of the hard-left party who backed Hollande a year ago to occupy the Elysee Palace for a five-year mandate.
"The test period is over and the account is not there. ... If you know how to do, we know. ... It is us who begin with this demonstration, the insurgency that our republican homeland needs," Melenchon told protestors.
"We do not change our mind, we do not want the world finance in power. We do not accept the austerity policies that leads our people, like all of Europe, to an endless suffering," added the former candidate of the 2012 presidential election.
With France on the edge of recession, unemployment at an all-time high and eurozone partners pressing him to cut the budget deficit, Hollande has suffered the sharpest fall in popularity of any president in more than half a century.
While the protest gathered a large swath of left-wing sympathizers, Hollande still has the strong backing of center-left lawmakers and the moderate CFDT trade union group, which backed the labor reform and did not join the march.
Responding to the marchers, Prime Minister Jean-Marc Ayrault told TV channel TF1: "There is no austerity, that's a propaganda invention."
But he added: "I understand their impatience and it's why we need to battle. ... Our reforms are geared towards growth and investment, not just austerity. They will bear fruit little by little."
Ayrault added the government was considering cutting its stake in some partly state-owned companies to finance investments.
In a move hailed as a victory by Finance Minister Pierre Moscovici, the European Commission on Friday gave France two more years to bring its budget deficit below the EU ceiling of 3 percent of gross domestic product, from 4.8 percent last year. The government says it will hit the target by mid-2014.
But Melenchon was dismissive. "Stop the lies. It's not two years of respite the European Commission is giving us but two years of blackmail," he said.
Reuters-Xinhua
(China Daily 05/07/2013 page10)
Today's Top News
Editor's picks
Most Viewed