Mental-health patients given OK to leave 'have nowhere to go'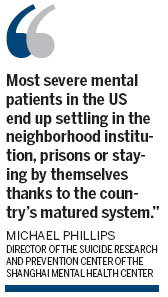 Although a new law allows eligible mental-health patients to be discharged from a hospital when they want to leave, 52 patients at a Shanghai psychiatric hospital still find it difficult to go home.
The new law on mental health, which took effect on Wednesday, grants patients the right to request to be discharged once they qualify for this.
Encouraged by the news, 70 patients at Shanghai Pudong Mental Health Center - a district-level hospital - made the request and passed a medical assessment, the center said.

Today's Top News
Editor's picks
Most Viewed