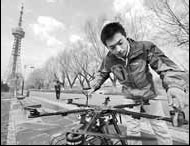 Highlights from chinadaily.com.cn
Photo: Model aircraft enthusiast Jia Mingxiao got the idea of developing a small, unmanned aircraft in 2010 when she heard on TV that rescuers had difficulty finding people trapped by floods in Jilin province. She started a company to produce the craft to help people in need.
Bilingual news: If you read the Western press much, you will get a distorted view of what Chinese life is like. The average foreigner probably assumes that daily life here is highly regimented. You might be surprised that life is in fact much freer and more casual in China than elsewhere.