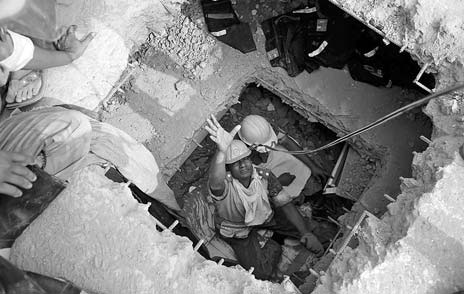 Firefighters try to rescue workers, who are trapped on Thursday inside the rubble of the collapsed Rana Plaza building, in Savar, 30 km outside Dhaka. The collapse killed 204 people and injured more than 1,000. The death toll could climb higher because many people are still trapped inside. Andrew Biraj / Reuters
Rescuers in Bangladesh on Thursday hunted for survivors in a collapsed building as the death toll rose above 200 and criticism mounted of foreign companies that source cheap clothes from the country.
More than 1,000 people were injured when the site housing five garment factories on the outskirts of Dhaka imploded on Wednesday, allegedly after managers ignored workers' warnings that the building had become unstable.
Flags flew at half-mast as the shell-shocked country declared a day of mourning for the victims of the nation's worst factory disaster, which highlighted anew safety concerns in Bangladesh's vital garment industry.
"The death toll is now 204," said senior police officer Moshiuddowla Reza, adding that most of the dead were from the 3,000-strong mostly female workforce in the building's garment factories.
Wali Asraf, a senior police officer in the disaster control room, said thousands of people were still massing at the disaster site for information about their missing relatives.
Working with cutters and drilling machines, fire and army rescue teams have pulled out 1,400 people alive since they launched the operation with "many still trapped beneath the rubble", said fire service director Major Mahbubur Rahman.
"We are digging carefully and using only small machines to cut through the pancaked floors," he said, adding they stopped using heavy equipment for fear that it might jeopardize the chances for survival of those trapped alive.
Forty more people have been rescued alive from a room inside a collapsed garment factory, an army spokesman said on Thursday night.
Sound alarm
The accident has once again highlighted the safety problems and poor working conditions that plague the nation's textile industry, the world's second-biggest clothing exporter which supplies global retailers.
In November, a blaze at a factory making apparel for Walmart and other Western labels in Dhaka left 112 people dead, with survivors describing how fire exits were kept locked by site managers.
Tessel Pauli, a spokeswoman for the Amsterdam-based Clean Clothes Campaign, said the latest disaster was "symptomatic" of problems in Bangladesh where foreign buyers are accused of jeopardizing safety in their search for profit.
"These accidents represent a failure of these brands to make safety a priority. They know what needs to be done and they are not doing it," Pauli said.
Bangladeshi unions and rights activists have also reacted furiously, calling for an end to the impunity the country's garment manufacturers enjoy.
AFP-AP
(China Daily 04/26/2013 page11)