Following the recent earthquake in Ya'an, Sichuan province, the National Basketball Association, its teams and players will donate 1 million yuan ($162,000) to the China Youth Development Foundation through the league's global social-responsibility program, NBA Cares, to aid victims and their families in disaster relief and rebuilding efforts.
The NBA will bring immediate assistance through a CYDF emergency relief program by providing portable classrooms and financial assistance to those students from earthquake damaged schools and area families.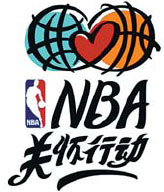 NBA is the first professional sports league that announced donation and commitment to support earthquake relief efforts.