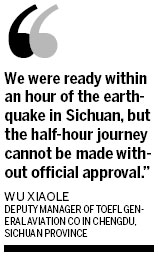 General aviation service providers have urged authorities to include them in the nation's emergency response system so they can join relief work following the magnitude-7 earthquake that struck Sichuan province on Saturday.
Tens of non-State general aviation firms said they have been awaiting approval for the past five days to join the rescue work.
The term general aviation covers all civilian aviation operations other than scheduled flights, from gliders and powered parachutes to corporate jets.