Company Special: Wuliangye disaster relief arrives in Ya'an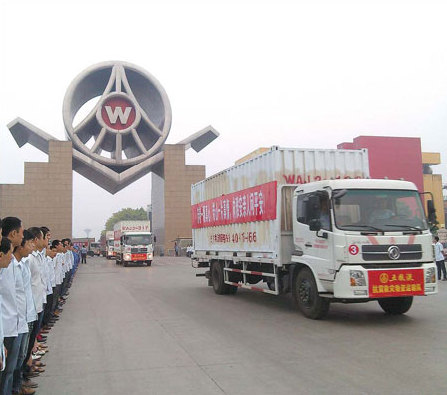 The fleet departed from the company at 7 am on April 22 and arrived at hard-hit Baoxing county Tuesday morning. Photos Provided to China Daily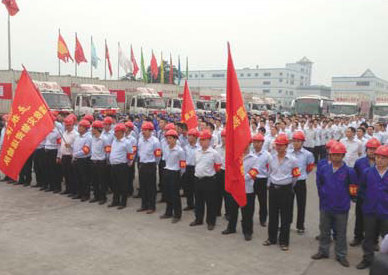 Members of the Wuliangye disaster relief team vowed to fulfill their mission at the dispatch ceremony.
A disaster-relief fleet of 24 trucks from renowned distiller Wuliangye Group set out on Monday morning to Ya'an in Sichuan province, which was hit by a severe magnitude of 7.0 earthquake on April 20.
Items carried by the fleet included clothes, blankets, bottled water and canned food with a total value of 4 million yuan ($647,500).
Wuliangye also decided to donate 10 million yuan in cash to the earthquake-hit region on the first day of the tragedy.
The company said it is the first in the industry to give such large donations.
A brief ceremony for dispatching the fleet was held at 7 am at its headquarters in Yibin, another Sichuan city near Ya'an.
The group's general manager Chen Lin told the disaster-relief team to "take care of themselves" because of adverse road conditions due to continuing after-quakes and rainy weather.
Despite the risky journey ahead, Chen required team members to successfully fulfill their mission because the materials are desperately needed by people in the quake-stricken areas.
Ye Yonggang, deputy secretary-general of the Yibin city government and deputy chairman of Yibin Charity Society, said the city government formulated an emergency disaster relief plan immediately after the earthquake was reported. Wuliangye was among the first in the business community to respond to the government's call for help.
Ye hopes the Wuliangye team, which piloting the city's relief efforts, can convey the best wishes from the people of Yibin. He assured that more assistance from Yibin will soon follow.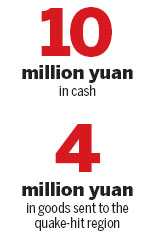 The Wuliangye team is headed by two senior executives of the company.
The company has long been an active corporate citizen in practicing various social responsibility initiatives.
It offered help for disaster relief and reconstruction after the earthquakes in Wenchuan, Sichuan province in 2008 and Yushu, Qinghai province in 2010.
Following the Wenchuan earthquake, the company donated 28 million yuan in cash and materials. Its donations to Yushu totaled 15 million yuan.
In addition, the company has built a 31.5-million yuan middle school in Dujiangyan - a city also hit by the Wenchuan earthquake - and a 25-million-yuan primary school in Yushu.
zhuanti@chinadaily.com.cn
(China Daily 04/24/2013 page12)
Today's Top News
Editor's picks
Most Viewed