Djokovic eyes Nadal's French Open crown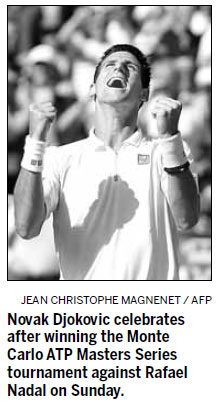 Novak Djokovic can cast his hopes forward a month to the start of Roland Garros with serious thoughts of a Paris title after stunning Rafael Nadal to win a first career trophy at the Monte Carlo Masters.
The Serb world No 1, who was almost unable to start the prestige clay week due to an ankle injury, consulted with his doctors on a daily basis before deciding to take a chance.
The week-long gamble eventually paid off with a 6-2, 7-6 (1) win over Nadal which ended the Spaniard's 46-match win streak, comprising eight consecutive titles at the cliffside Country Club.

Today's Top News
Editor's picks
Most Viewed