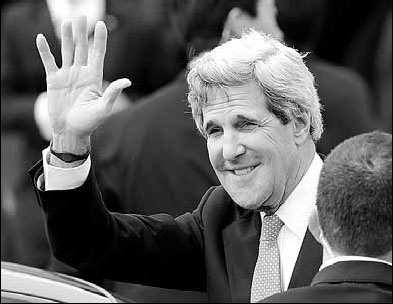 US Secretary of State John Kerry waves upon his arrival at Haneda International Airport in Tokyo on Sunday. Kerry arrived in Japan to discuss nuclear tensions on the Korean Peninsula. Toshifumi Kitamura / Agence France-Presse
Talks between Chinese leaders and United States Secretary of State John Kerry during his two-day visit to China were fruitful, said analysts, who called for full implementation of their agreements.
The US wants a "strong, normal and special" relationship with China because the Asian country is a great power with the great ability to advance the world, Kerry said at a news briefing on Saturday night after meeting with Chinese leaders.
This was Kerry's first visit to China as US secretary of state and was part of an Asian tour with stops including Seoul and Tokyo.
President Xi Jinping, Premier Li Keqiang, State Councilor Yang Jiechi and Foreign Minister Wang Yi had in-depth talks with Kerry to explore the new type of major power relationship, while differences remain in certain areas between the world's two largest economies.
Bob Berring, a law professor at the University of California, Berkeley, who has taught courses related to China for many years, said Kerry demonstrated the goodwill and honest intentions of the US.
There are short-term issues such as the Pyongyang nuclear issue, "but the long-term relationship between China and the US is more important", he said.
Berring noted that there is no reason the US and China cannot cooperate in the future.
"Rationally, there is no necessary conflict of interest. It is a challenge for the leadership of the US to recognize China as a peer, a nation that must be dealt with as an equal," he said.
"This is a critical time, needless to say, being able to speak directly to my Chinese counterpart and try to focus on some very critical issues is of major importance," Kerry told US embassy staff in Beijing on Sunday ahead of his departure for Tokyo, AFP reported.
During the meeting, Premier Li and Kerry agreed to issue a joint statement on climate change, and announced the two countries will set up a climate change workforce under the framework of the China-US Strategic and Economic Dialogue.
In July, China and the US will hold the fifth China-US Strategic and Economic Dialogue.
State Councilor Yang Jiechi said China was committed to "advancing the denuclearization process on the Korean Peninsula" and "will work with the parties concerned, including the US, to play a constructive role".
China and the US should also engage in calm and objective dialogue about cyberspace, Foreign Minister Wang Yi said. Beijing and Washington have been trading accusations in recent months of massive hacking intrusions.
Policy, not rhetoric
Kerry told reporters he wanted to ensure that Saturday's pledges were "not just rhetoric, but ... real policy".
He predicted he would be making "many trips" to Beijing, hailing what he called "an extremely positive and constructive day ... beyond what I anticipated in many regards".
Shi Yinhong, a professor of international relations at Renmin University of China, said China and the US have reached consensus on various issues during Kerry's visit, but what is most important is to implement their agreements.
"China and the US have made many positive comments in the past. But when it comes to specific issues and major interests of the two countries, how to deal with them will become very complicated," Shi said in an interview with China Radio International.
George Koo, an international business consultant and board member of New America Media, said that Kerry has indicated willingness to abandon or at least de-emphasize the US "pivot to Asia" as a maneuver to counter China interests.
"If he can truly convey a genuine desire to cooperate and work with China rather than as an adversary, then he stands a chance at strengthening bilateral relations," Koo said. "It's not possible to build positive relations in an atmosphere of mutual distrust. The biggest challenge for Secretary of State Kerry is to depart from a sense of confrontation to one of mutual cooperation on the many issues of common interest, and not to allow differences to magnify into issues of open friction," Koo said.
Bonnie S. Glaser, senior adviser for Asia in the Freeman Chair of China Studies at the Center for Strategic and International Studies, said managing differences and building trust remain challenges in China-US relations.
"It is in the interests of both countries to have a primarily cooperative relationship, while recognizing that they will have some conflicts of interest and some major differences, but those should not dominate the relationship," Glaser said.
They should reach an understanding that they will seek to resolve any differences peacefully and through consultation, she added.
Contact the writers at chengguangjin@chinadaily.com.cn and chenjia@chinadailyusa.com
Xinhua contributed to this story.
(China Daily 04/15/2013 page11)