Fond farewells for 'Iron Lady'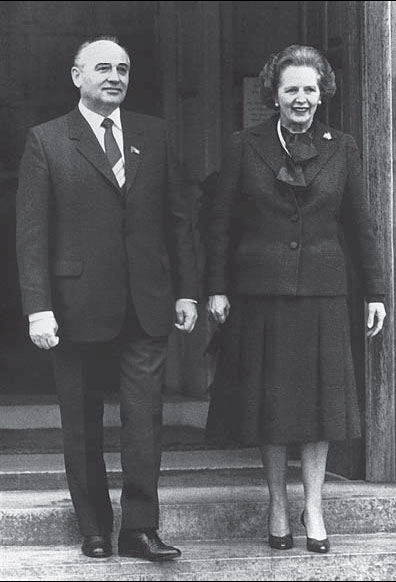 Then-British prime minister Margaret Thatcher poses with Mikhail Gorbachev, former Soviet politburo member, during their meeting in Chequers, north of London, on Dec 16, 1984. Roy Letkey / Agence France-Presse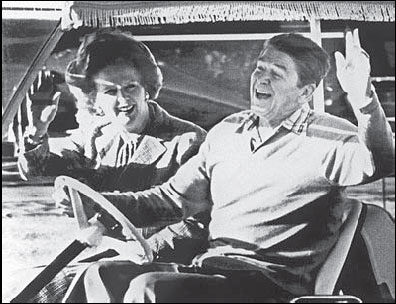 Then-US president Ronald Reagan and then-British prime minister Margaret Thatcher wave after their arrival at Camp David on Dec 22, 1984, before their meeting. Provided by Agence France-Presse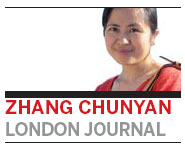 I was eating lunch when I learned that former British prime minister Margaret Thatcher had passed away.
"Big news for you, Chunyan," my British colleague Steven Bywater told me. At that moment, the BBC had just reported that she died peacefully at the age of 87 after suffering a stroke.
"What a pity!" all my colleagues at the lunch table said with one voice. I rushed to my desk and posted the news on my Sina Weibo account.
I knew lots of stories about Lady Thatcher when I was a student. She was an outstanding woman and is admired by many Chinese girls and women.
She was Conservative prime minister from 1979 to 1990 and the first and only woman to hold the post, renowned worldwide as the "Iron Lady".
As Yang, a Chinese student doing an MA in political communications at Goldsmiths, University of London, put it: "I was astonished when I saw the news of her death. She led the UK at a time when the state of world politics was dominated by males."
Lady Thatcher visited China several times and played an important role during the peaceful return of Hong Kong to China's sovereignty in July 1997.
Lord Charles Powell, her foreign affairs adviser and private secretary when she was prime minister, told me on Monday: "Margaret Thatcher attached very great importance to relations with China, and especially the peaceful return of Hong Kong to China's sovereignty, which she negotiated with Mr Deng Xiaoping."
Powell added that Thatcher had a clear vision of China's future economic and political development, and wanted Britain to play a leading role in that future as a friend of China.
For her country, she employed many policies to reverse Britain's economic decline, including monetarism, privatization, deregulation, small government, lower taxes and free trade.
Of modern British prime ministers, only Lady Thatcher's childhood hero, Sir Winston Churchill, acquired a higher international reputation, according to The Telegraph.
Emyr, 25, a British employee of Accenture, shared the same opinion. "It's terrible news for me because she was such a great leader. She led the country well and took Britain to the world. She has a reputation as a strong and powerful lady. She is almost the symbol of Britain," he said.
However, his compatriot Wesley Gilead, 31, said, "I didn't really care about the politics and she is not really significant to me. When I think of Margaret Thatcher, she did not make me feel good or bad."
In the US and Eastern Europe, Lady Thatcher was regarded, with her friend Ronald Reagan, as one of the two major players in the Cold War.
In recent years, she became frail following a series of small strokes and dementia.
I had read that poor health prevented her from attending her 85th birthday party at Downing Street arranged by David Cameron in October 2010, and also prevented her attending the royal wedding of Prince William and Kate Middleton on April 29, 2011, at Westminster Abbey.
Even so, in 2011, The Iron Lady, a British film based on her life, attracted much attention globally.
While the film was met with mixed reviews, just like Lady Thatcher's career, I think from today, more people will watch it as the world says goodbye to the Iron Lady.
Contact the writer at zhangchunyan@chinadaily.com.cn
(China Daily 04/09/2013 page12)
Today's Top News
Editor's picks
Most Viewed