China can 'learn from US on shale gas'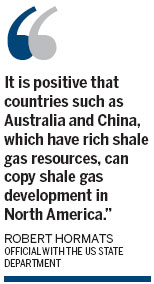 The success of the shale gas "revolution" in the United States can be copied in other countries, including China, but the difficulties will determine how soon that can be achieved, said experts from around the world.
Government officials, industrial experts and businesspeople from the US and China discussed China's shale gas development on Saturday at the Boao Forum for Asia Annual Conference 2013.
"It is positive that countries such as Australia and China, which have rich shale gas resources, can copy shale gas development in North America, and the problem lies with how soon it can be achieved," said Robert Hormats, undersecretary of economic growth, energy, and the environment at the US State Department.

Today's Top News
Editor's picks
Most Viewed