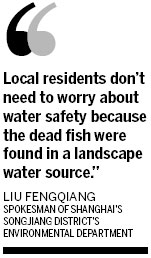 Hundreds of dead fish have washed up along the shorelines of a man-made river in Shanghai's Songjiang district since April 3, but the local water authority and environmental protection bureau insist the water is safe.
A total of 250 kilograms of dead fish, mainly crucian carp, have been retrieved in suburban Shanghai's Sijing pond since last week. Gao Yunchu, director of Songjiang water authority, said small fish with relatively weaker body defense systems were found dead at the beginning of April and the bodies of bigger fish such as carp were discovered on Saturday.
About 150 kg of crucian carp and 100 kg of bigger carp will be sent to a landfill site.