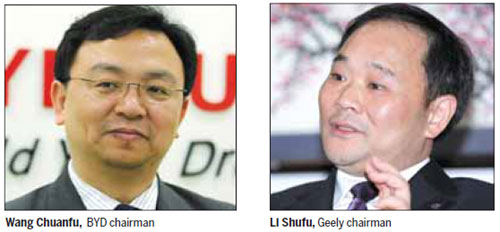 With given names ending in the same Chinese character fu, which means good fortune, Li Shufu and Wang Chuanfu have another thing in common - they are the bosses of two leading domestic automakers.
But on the surface, good fortune has been better to one than the other. Wang, the chairman of BYD, had the domestic industry's biggest paycheck last year - more than 2.7 million yuan - while Zhejiang Geely Holding Corp Chairman Li had the lowest, just 327,000 yuan, according to recently released annual reports from the country's major listed automakers.
But a deeper look at company statistics show Li is the majority owner in Geely with control of 50.3 percent of its stock in 2011, when Forbes magazine listed him as the 37th-richest person in China. His net worth was then reported to total $2.2 billion.