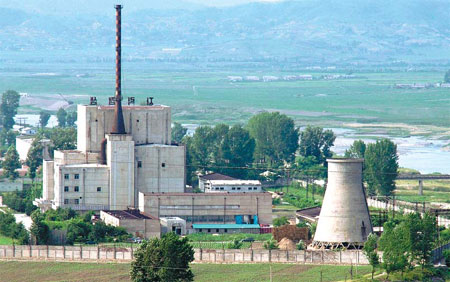 A nuclear plant is seen before a cooling tower (right) is demolished in Yongbyon, the DPRK, in this photo taken on June 27, 2008, and released by Kyodo. The DPRK is to restart the Yongbyon nuclear reactor, closed since 2007, in a move that could produce more plutonium for nuclear weapons as well as for domestic electricity production, the KCNA news agency said on Tuesday. Kyodo via Reuters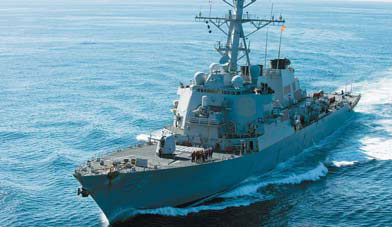 The guided-missile destroyer USS John S. McCain is now off the Korean Peninsula's southwestern coast. Mass Communication Specialist Seaman Cheng S. Yang / US Navy via Reuters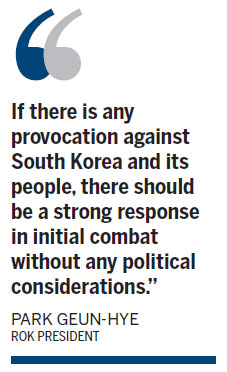 Washington says it takes the DPRK's threats of war seriously
The United States has deployed a warship off the Korean coast to shield against a ballistic missile attack as the Republic of Korea's new president vowed swift retaliation against any Democratic People's Republic of Korea strike amid soaring tensions on the Korean Peninsula.
But Washington said it had seen no worrisome mobilization of armed forces by the DPRK despite the country's rhetoric over a ramping-up of international sanctions against Pyongyang over nuclear tests.
"If there is any provocation against South Korea and its people, there should be a strong response in initial combat without any political considerations," ROK President Park Geun-hye told the defense minister and senior officials.
The DPRK said the region is on the brink of a nuclear war following UN sanctions in response to its February nuclear test and a series of joint US and ROK military drills that have included a rare US show of aerial power.
In Washington, the White House has said the US takes seriously the DPRK's war threats.
The DPRK further escalated its rhetoric on Saturday by saying it was entering a "state of war" with the ROK in response to what it termed the "hostile" military drills.
Warship in position
A US defense official said the destroyer, an Aegis-class guided-missile one that is used for ballistic missile defense, was being positioned off the peninsula's southwestern coast.
"This is a prudent move that provides greater missile defense options should (they) become necessary," said the official, speaking on condition of anonymity. The ship was not expected to participate in any exercises, the official added.
The ROK has changed its rules of engagement to allow local units to respond immediately to attacks, rather than waiting for permission from Seoul.
Stung by criticism that its response to the shelling of an ROK island in 2010 was delayed and weak, Seoul has also threatened to target young DPRK leader Kim Jong-un and to destroy statues of DPRK leaders in the event of any new attack, a plan that has outraged Pyongyang.
The DPRK stepped up its rhetoric in early March, when US and ROK forces began annual military drills that involved the flights of US B-2 stealth bombers in a practice run, prompting the DPRK to put its missile units on standby to fire at US military bases in the ROK and in the Pacific.
The US also deployed F-22 stealth fighter jets on Sunday to take part in the drills. The Pentagon said it was the fourth time F-22s had been deployed to the DPRK.
Reuters
(China Daily 04/03/2013 page12)