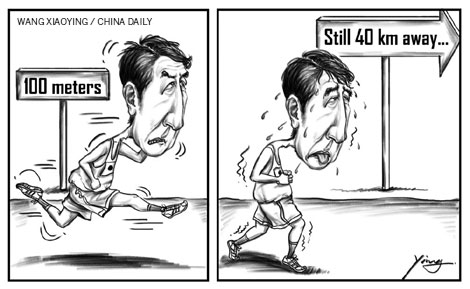 The Japanese economy has not recovered from its persistent deflation problem and the shocks it has suffered in the past years. After being the world's second largest economy for 42 years, it slipped to third in 2010, yielding the place to China. Even politically, Japan cannot be said to be stable. It has had five prime ministers between September 2007 when Shinzo Abe resigned as prime minister and December 2012 when he assumed office for the second time.
Abe may have returned to power with a landslide victory of the Liberal Democratic Party in the general election, but he has to take aggressive measures to end deflation and revive the economy to be seen as a successful prime minister.
Shortly after taking office, he introduced what many refer to as "Abenomics", a series of ambitious plans to end deflation which include aggressive monetary easing, setting a new 2 percent inflation target and a proactive fiscal policy with a generous spending of about $1.14 trillion in 15 months. Also, he has promised to unveil the details of his economic growth strategy in June.