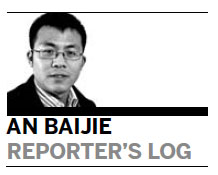 During the two days I stayed in Pingtan county last week, I was awakened early every day - not by the hotel's morning call service but by the noise of trucks and cars on the street.
The whole downtown is like a huge construction site, with numerous new buildings under construction, trucks going to and fro and dust covering the roadside bulletin board.
It's the first time that a symposium on cross-Straits relations has been held here, and more than 170 people from political, business, education and culture sectors from the mainland and Taiwan came to discuss the future of cross-Straits communications.