Two cities join hands through links with Xi Jinping
By Zhang Yuwei in New York and Zheng Jinran in Zhengding, Hebei | China Daily | Updated: 2013-04-03 07:13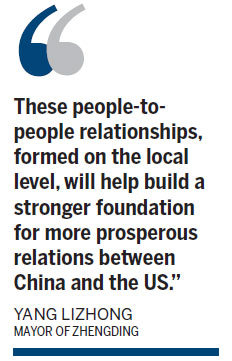 The small Iowa city of Muscatine welcomed special guests from Zhengding county, Hebei province, on Monday.
The Chinese delegation of eight led by Mayor Yang Lizhong had a mission: sign a sister-city agreement with Muscatine.
"It is exciting, and in a lot of ways it is our contribution to world peace," said Muscatine Mayor DeWayne Hopkins.

Today's Top News
Editor's picks
Most Viewed