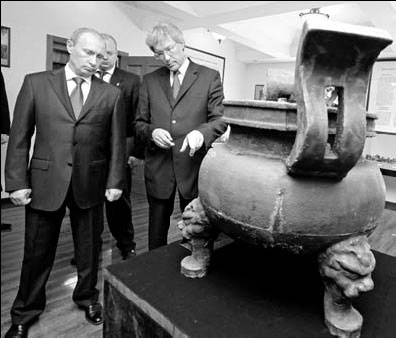 Vladimir Putin (left), who was Russian prime minister at the time, and Russian Ambassador to China Sergei Razov talk in the Russian embassy in Beijing in 2009. Provided to China Daily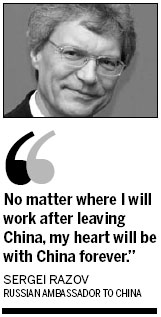 Outgoing Ambassador Razov: Xi's visit succeeded 'beyond expectations'
It was always easy to observe Sergei Razov's affection for China and his efforts to boost Sino-Russian ties over the past seven and half years when he served as Russian ambassador.
This was evident when the 60-year-old diplomat held his farewell news conference on Thursday, which lasted for nearly two hours. He said he will soon leave his post and China, where he has spent 12 years in total.
"No matter where I work after leaving China, my heart will be with China forever," he told reporters at the embassy.
The announcement came days after President Xi Jinping's visit to Russia from March 22 to 24, his first overseas trip as president. The visit saw both sides commit to developing bilateral relations as their top diplomatic priority, and more than 30 economic agreements were signed.
Razov said the success of Xi's visit is "beyond expectation", while the implementation of the agreements needs enduring efforts from both sides, including from Russia's new ambassador.
"There are no perfect relations in the world, but it is satisfying to witness Sino-Russian relations reach their best level ever," he said, citing the more than seven-hour meeting between Xi and Russian President Vladimir Putin in Moscow as evidence.
A long-awaited memorandum on gas supplies to China was also signed on the sidelines of Xi's visit, marking the end to years of arduous negotiations on pricing.
"A deal is likely to be signed this year," Razov said.
Since he was appointed to the position in June 2005, bilateral trade volume has increased from around $30 billion to more than $88 billion last year. Both countries aspire to cross the $100 billion threshold by 2015 and the $150 billion line by 2020. Razov said he is optimistic that these milestones can be achieved ahead of schedule, but he voiced concern over the structure of bilateral trade and insufficient Chinese investment in Russia.
Russia's exports to China are principally raw materials, including timber, coal and metals. In 2012, Chinese direct investment in Russia grew more than 1.5 times to $4.4 billion.
"The top task for both countries is to transform the current close ties into substantial fruit in the fields of economic cooperation and cultural exchanges," Razov said.
He called for enhanced cooperation in high-value-added products, for more Chinese investment in Russia's resource-rich but sparsely populated Far East region that borders China, and for increased people-to-people exchanges between the two countries' young people.
Russia and China have developed a comprehensive strategic partnership based on mutual respect and shared interests, the ambassador said.
"The two countries' cooperation mechanism involving almost all areas is a unique one, and I don't think either Russia or China has such a mechanism with any other country."
Both countries have established annual exchange mechanisms between heads of state, premiers and parliamentary chiefs as well as regular negotiations between their foreign affairs, national defense and security bodies.
During Razov's tenure, Russian and Chinese presidents have visited each other's countries six times.
"The change of ambassador won't affect Moscow's determination to continue strengthening ties with China," he said.
Headlines of the newspaper Russia Beyond quoted a source close to the Russian Foreign Ministry as saying that Razov could become ambassador to Italy. He was deputy foreign minister before being appointed ambassador to China and has also served as ambassador to Mongolia and Poland.
zhaoshengnan@chinadaily.com.cn
(China Daily 04/01/2013 page11)