Breedlove receives nomination to be top NATO commander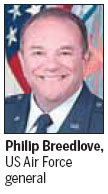 The United States on Thursday nominated General Philip Breedlove, a veteran pilot in Europe, as the top commander of NATO a month after the original candidate for the post stepped aside.
US President Barack Obama said that Breedlove has "served with distinction" and hoped he will assume the new post by late spring. Breedlove has commanded US air force units in Europe and Africa since last year from Ramstein, Germany.
"General Breedlove has established trust and deep relations with our NATO allies and partners - assets he will draw upon in taking on this important new role on behalf of the United States and the alliance," Obama said in a statement.
If confirmed by the US Senate, Breedlove will take charge of the alliance at a critical time as the United States and its partners wind down combat operations in Afghanistan. Breedlove would also head all US forces in Europe.
The North Atlantic Council in Brussels approved the nomination.
Breedlove will take over from Admiral James Stavridis, who has served as NATO's Supreme Allied Commander, Europe Commander, since 2009.
Obama had earlier tapped top Afghan war commander General John Allen for the post but last month accepted his withdrawal after the general cited family reasons.
Allen had been embroiled in a drama, but was cleared of any wrongdoing, over emails to a Florida socialite. The probe stemmed from a sex scandal that brought down his Afghan war predecessor, General David Petraeus, as head of the CIA.
Breedlove, 57, has spent nearly one-third of his career in the US Air Force in Spain, Italy or Germany.
Breedlove started his career in 1977 and has flown more than 3,500 hours on the F-16.
From 1983 to 1985, Breedlove was an F-16 instructor at the Torrejon air base in Spain. He then moved until 1990 to Ramstein in Germany, where he led an F-16 squadron.
Breedlove also has experience in Asia, having served in South Korea in 1993 and 1994. He then took on leadership positions before returning to Europe in 2004 at the Aviano base in Italy and then at Ramstein.
From January 2011 to July 2012, Breedlove served as the Air Force vice-chief of staff.
(China Daily 03/30/2013 page8)
Today's Top News
Editor's picks
Most Viewed