Boeing says 787 safe, vows to fly jet again soon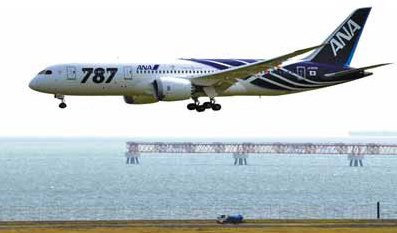 An All Nippon Airways Boeing 787 Dreamliner at Tokyo's Haneda airport. Dreamliners, which have been grounded, are safe, a senior Boeing executive said in Tokyo on Wednesday as the company seeks to reassure airlines and passengers about its flagship aircraft. Yoshikazu Tsuno / Agence France-Presse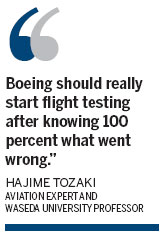 The grounded Boeing 787 Dreamliner is "absolutely" safe and will be back in the air within weeks, Boeing Co said in Japan on Friday as it sought to reassure airlines and passengers about the aircraft.
The 50 airliners, grounded around the world since two lithium-ion battery malfunctions sparked a global no-fly order in mid-January, will undergo fixes to their systems and be operational again soon, senior executives said.
"I get often asked if I think the airplane is still safe. My answer is simple: Absolutely," Mike Sinnett, the chief project engineer on the 787, told reporters.
Ray Connor, president of Boeing Commercial Airplanes, said measures that the company had put in place and that were now undergoing flight testing will put the aircraft back in the skies.
"We are going to be dependent upon (moving) through the certification process. We will determine when we actually get back in the air in terms of flights," he said.
Connor said that while he originally thought the process would take months, he now believes it will be only weeks.
The company chose to give its first public explanation of the fix in Japan, home to two of its biggest customers - All Nippon Airways Co Ltd and Japan Airlines Co Ltd - and to suppliers who make around a third of the aircraft's parts.
The 787 Dreamliner has been lauded for its use of next-generation materials that have cut weight and slashed fuel costs.
Boeing opted to use lithium-ion batteries for the plane, which engineers say are lighter than other batteries, provide a higher power output and retain their charge when not in use.
But the batteries have come under scrutiny after a small fire on a parked 787 at Boston's Logan International Airport in January. Days later, what appeared to be smoke from a battery on an ANA flight forced an emergency landing in Japan.
The company said despite the efforts of a 500-strong team of engineers from different disciplines, the fundamental problem had eluded them.
But teams identified 80 potential scenarios that could cause a battery failure and worked to provide solutions and preventative measures. These included boosting insulation inside the battery pack and adding vent lines so any escaping vapor is discharged outside the aircraft.
"We design so that no single failure can place flight landing at risk," Sinnett said. "Every critical system on an airplane has multiple layers of redundancy."
Sinnett said the probe into the two incidents had proved the aircraft's safety measures had worked. "After the battery failure, the airplane responded in exactly the way we had designed and anticipated," he said.
Sinnett said there had been no fire inside the battery itself on either aircraft, and what appeared to the untrained eye to be smoke was electrolyte venting from the cells.
"Are we confident that there will never, ever be another battery failure? The answer to that is: Parts fail," he said.
"We know that someday a battery may fail. We need to make sure that there is no significant impact at the airplane level when it does."
The worldwide grounding of Dreamliners threw schedules into disarray, especially in Japan, where ANA, the biggest operator of the plane, has been forced to cancel more than 3,600 flights to the end of May.
Aviation expert and Waseda University professor Hajime Tozaki said Boeing's going ahead with flight testing before it knew for sure what exactly had gone wrong was not ideal.
"Boeing should really start flight testing after knowing 100 percent what went wrong," he said.
Agence France-Presse
(China Daily 03/16/2013 page8)
Today's Top News
Editor's picks
Most Viewed