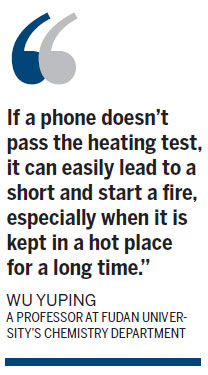 Tests ordered by Zhejiang provincial authorities in East China found that products from a number of cellphone makers - including Samsung Group, Sony Mobile Communications AB (formerly Sony Ericsson), Motorola Mobility LLC and Nokia Corp - are substandard and can cause fires and explosions.
The test, organized recently by the Zhejiang Provincial Administration for Industry and Commerce, found 27 out of the 36 batches of sample cellphones, or 75 percent, were of inferior quality, with 20 batches failing to pass the battery heating test, one of the critical safety benchmarks.
Other brands with problems were Royal Philips Electronics, HTC Corp, ZTE Corp, K-Touch, TCL Corp, Huawei Technologies Co Ltd, Hisense, Lenovo Group Ltd, Desay, Amoi, Vivo, Ebest and Coolpad.