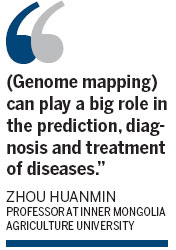 Chinese scientists have completed mapping the genome of the Mongolian people, a first for a Chinese ethnic minority, a political adviser said on Sunday.
The group genome samples came from 200 volunteers from four Mongolian tribes, said Zhou Huanmin, a member of the National Committee of the Chinese People's Political Consultative Conference, the country's top political advisory body.
The achievement will reveal the genome features, genetic variations and the evolution of the ethnic group, said Zhou, who is also a professor at Inner Mongolia Agriculture University and the head of a key biotechnology lab in the province.