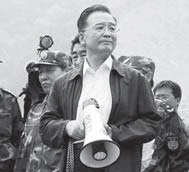 Highlights from chinadaily.com.cn
Photo special: With three deep bows, Premier Wen Jiabao delivered the final major political address of his career to China's top legislature on Tuesday. The National People's Congress will elect the nation's next premier during the ongoing session in Beijing. As Wen leaves the political stage, we have gathered a collection of photos tracing his career over the past decade.
Bilingual: Ikea has recalled thousands of cakes from its stores in 23 countries after Chinese authorities identified high levels of bacteria normally found in human and animal waste. The furniture giant admitted on Tuesday that coliform bacteria had been found in two batches of almond cake from a supplier in Sweden. The move comes after Ikea recalled meatballs and sausages from 24 countries amid fears they could have been contaminated with horsemeat.