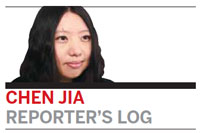 'The fruits of development should be shared more equitably by all people."
This sentence in Premier Wen Jiabao's last annual Government Work Report was greeted by more than 10 seconds of applause in the Great Hall of the People.
At 8 am on Tuesday, when people were rushing off to work, deputies to the 12th National People's Congress were arriving at the east gate of the hall by coach, to attend the opening session.