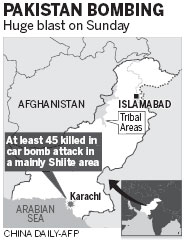 Pakistan's largest city Karachi shut down on Monday to mourn 45 people killed by a car bomb in a Shiite Muslim neighborhood, the latest in a series of devastating attacks ahead of general elections.
Traffic was minimal as educational institutions, businesses and markets closed after the local government announced one day of mourning and Shiite groups three days of mourning for those killed in Sunday's bombing in Abbas Town.
The bomb exploded as worshippers were coming out of mosques, ripping through two apartment blocks, setting one of them on fire and trapping people beneath piles of rubble. On Monday, survivors were being housed temporarily in schools.
There has been no immediate claim of responsibility. Sunni militant groups who do not consider Shiites to be true Muslims have carried out such attacks in the past.
Suspicion is likely to fall on the banned Sunni extremist organization Lashkar-e-Jhangvi, which has claimed major attacks on Shiites in the city of Quetta, and on the Pakistani Taliban.
This was the third mass casualty attack against Shiites since the beginning of the year. The first two killed nearly 200 people in the city of Quetta, which is home to many Hazaras. They are an ethnic group, mostly made up of Shiite Muslims, who migrated from Afghanistan more than a century ago.
Last year was one of the deadliest for Shiites in the country's history. Observers said more than 400 Shiite Muslims were killed in targeted attacks across Pakistan in 2012. But with nearly 250 Shiites killed in the three attacks so far this year, 2013 is shaping up to be even more dangerous.
Pakistan banned Lashkar-e-Jhangvi in 2001, but the group continues to attack Shiites.
At the site of the blast, family and friends were looking through the rubble for family members missing after the explosion.
"I am here to look for my relative," said Farzana Azfar. "People say he was here. But people say they have no idea about him. It appears that some bodies are still in the rubble."
AFP-AP-Xinhua
(China Daily 03/05/2013 page11)