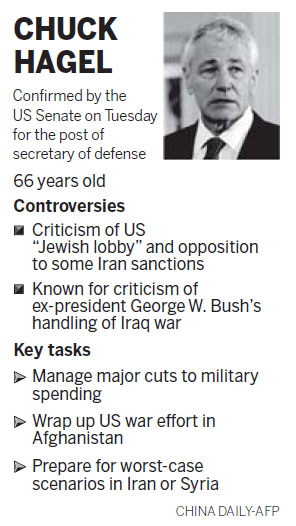 Obama wins no-holds-barred fight over his nominee
As US President Barack Obama battled Republicans in Congress on Tuesday to try to avoid automatic budget cuts taking effect on Friday, he won a brutal, seven-week fight over his nominee for defense secretary.
The Senate voted to confirm Chuck Hagel, a former two-term Republican senator from Nebraska, as the 24th secretary of defense.
Hagel was approved by 58 votes to 41, just hours after a 71-27 vote in the Senate to end the first-ever filibuster of a defense nominee. Obama had announced his nomination on Jan 7.
A decorated Vietnam veteran described by Obama as "the leader that our troops deserve", Hagel, 66, drew sharp criticism from many Republicans and some Democrats over parts of his record.
Republicans accused him of being soft on Iran and unfriendly to Israel, while some Democrats recalled his opposition to appointing an openly gay man as US ambassador to Luxembourg in the 1990s. Hagel later apologized for making an insensitive comment.
Hagel's confirmation comes at a critical moment in the looming budget crisis if Congressional Republicans and Obama have not still reached a deal before Friday on automatic budget cuts, known as sequestration.
According to the Office of Management and Budget, the defense budget will be cut by as much as 13 percent during the current fiscal year. The Department of Defense has announced that it plans to furlough the majority of its 800,000 civilian employees to meet a shortfall of some $46 billion.
Arizona Senator John McCain, one of the strongest opponents of Hagel's nomination, was among those who stopped blocking a vote on Tuesday, but still voted against Hagel's confirmation.
So did South Carolina Senator Lindsey Graham. Graham was one of 15 Republican senators who called on Obama on Thursday to withdraw Hagel's nomination, saying he was not the right candidate to head the Pentagon.
While Hagel could take up his new duties straight away, the delay in confirmation has led to departing defense secretary Leon Panetta remaining on the job for two additional weeks.
Despite the rough ride, the confirmation has been widely regarded as a victory for Obama amid divided party politics in Washington, especially between the White House and Congressional Republicans.
Also on Tuesday, the Senate Finance Committee voted 19-5 to approve Jack Lew, Obama's nominee for treasury secretary, setting the stage for a full Senate vote, expected in coming days.
Lew's confirmation is expected to be much smoother than Hagel's, despite Republicans' reservations and concerns about his record in working for Citigroup from 2006 to 2008.
The former chief of staff and budget director for Obama will face a tough budget battle against Republicans in Congress. Both the White House and Republicans have opposed some $85 billion in budget cuts during the current fiscal year that is set to begin on Friday, but they disagree sharply in their approach.
chenweihua@chinadailyusa.com
(China Daily 02/28/2013 page11)