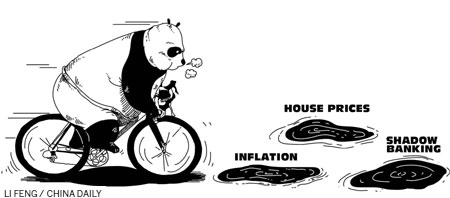 There has been talk of a currency war among the major industrialized countries this year. Many people outside China are worried that it will join this tug-of-war to avoid fast appreciation of the yuan, as it still relies on exports to drive economic growth. But this belief is outdated.
In fact, exports as a share of China's GDP began to decline, declining by almost 10 percentage points to 24.5 percent of GDP in 2012 from 34 percent in 2006.
Exports' share of GDP is likely to continue to decrease in the coming years. China's GDP will probably grow by an annual rate of 7.5 to 8 percent in real terms. Adding inflation and the yuan's appreciation, China's nominal GDP will grow by a rate of 12 to 14 percent in terms of the US dollar. In the meantime, factors on both the demand and supply side determine that China's export will not grow by such buoyant rates.