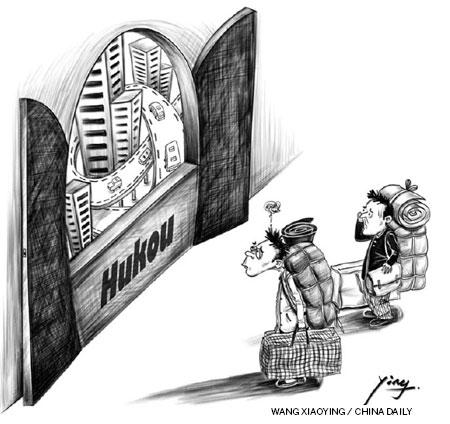 The government recently announced that China's future development roadmap is a "new type of urbanization". Vice-Premier Li Keqiang uses the word urbanization to describe the transition toward towns and cities rather than the mega-urban growth of the past.
It symbolizes the departure from land-centered urban development to a form of people-oriented urbanization, which covers a broad scope. In the earlier phase of capital-driven urbanization, excessive conversion of rural land into urban areas, often through master-planned new towns, was the norm. Large-scale construction was accompanied by wholesale demolition. What is new in the roadmap for a new type of urbanization is its focus on the people.
The conversion of rural land into urban agglomerations is an incomplete and unfulfilled urbanization, while it excludes new migrants from being recognized as urban residents. While the relocation of people to metropolitan regions might be inevitable, urbanization does not mean a spatial concentration of the residents in the center of a city. The essence of urbanization is the provision of public services in contrast to a self-contained rural society. So far, farmers in the countryside have been largely left outside the sphere of service provision. This means that China has to reform its hukou system, which divides the urban and rural domains and further segregates the rural migrants from their host urban societies.