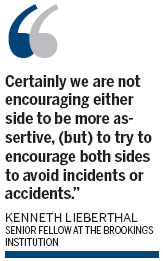 Japanese Prime Minister Shinzo Abe fell short of achieving his key goal, getting Washington's unequivocal support for Tokyo's stance over the Diaoyu Islands, as he concluded his visit to the US capital on Sunday.
Economic and political ties between the United States and China, the world's two largest economies, as well as fears over the rise of Japanese nationalism and the potential disruption this could cause in the Asia-Pacific region means Washington is adopting a cautious approach.
Abe did raise other matters during the four-day trip.