French writer details Strauss-Kahn affair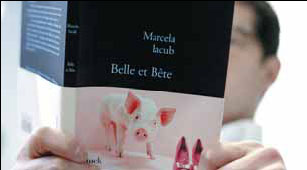 In Beauty and the Beast, author Marcela Iacub calls the main character "half-man, half-pig", though she considers the word "pig" a compliment. Kenzo Tribouillard / AFP
A French author has written in graphic detail about her eight-month affair with disgraced former IMF chief Dominique Strauss-Kahn, calling the relationship "field work" for a controversial new book.
The book by Marcela Iacub, a columnist with the daily newspaper Liberation, was denounced by Strauss-Kahn and his separated wife, journalist Anne Sinclair.
In Beauty and the Beast, Iacub says she had a relationship with Strauss-Kahn from January to August 2012, in the midst of the scandal over accusations he sexually assaulted a New York hotel maid.
She doesn't name Strauss-Kahn in the book, but she told Thursday's Le Nouvel Observateur magazine that it was about him, while admitting that she had mixed fiction with reality.
"The steps of the affair, the locations, the words reported, everything is true," she said, though she said she took poetic license with the sex scenes.
Crude language abounds in the book, in which she calls the main character "half-man, half-pig", though she considers the word "pig" a compliment.
"What there is that is creative and artistic in Dominique Strauss-Kahn - the beautiful things - belong to the pig and not to the man," she said.
Iacub's work is the latest in a long line of books, plays, TV shows and movies on the spectacular fall from grace of a man who was once tipped to become France's next president.
The politician in December agreed to a financial settlement with the hotel maid whose 2011 allegation of sexual assault forced him to resign from the International Monetary Fund.
But Strauss-Kahn is still being investigated in France as part of a probe into allegations he procured prostitutes for sex parties in Europe and in Washington.
According to excerpts published in the French press, the book touches on the incident in New York and the cases in France against Strauss-Kahn, as well as his relationship with Sinclair, his fabulously rich wife of 20 years who announced last July that she had split from her husband.
Iacub said she had warned Strauss-Kahn that she was writing a book.
In a letter sent by Strauss-Kahn to the Nouvel Observateur, he did not deny having an affair with the writer but slammed "the behavior of a woman who seduces to write a book and relies on loving feelings for financial exploitation".
"Beyond the fantastic - and therefore incorrect - nature of this story, this is a despicable affront to my private life and dignity," said Strauss-Kahn, who said he had instructed his lawyers to look at legal means to "fight this abomination".
Sinclair, who was interviewed by Iacub, accused the author of having given a "misleading and venomous" account of their interview and engaging in "defamatory and delusional" interpretation.
She said she was also considering taking "appropriate action".
(China Daily 02/23/2013 page6)
Today's Top News
Editor's picks
Most Viewed