US General John Allen to retire, won't take NATO nomination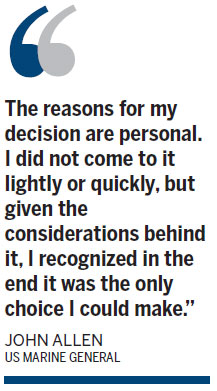 President Barack Obama is looking for a new candidate to lead US and allied forces in Europe after his first choice, Marine General John Allen, bowed out on Tuesday and announced his intention to retire for what he called personal reasons.
The move further clouds the picture for Obama as he repositions key figures on his national security team and in key military leadership roles. The White House is fighting for Senate confirmation of Chuck Hagel as defense secretary; a confirmation vote was stalled last week by Republicans but is expected to happen next week.
Obama also is switching commanders at Central Command, which is responsible for US military operations throughout the greater Middle East, and Africa Command.
After meeting with Allen at the White House, the president issued a statement praising Allen's service. He called the 57-year-old "one of America's finest military leaders, a true patriot, and a man I have come to respect greatly".
Allen appeared to be a shoo-in as the next top commander of allied forces in Europe. Obama nominated him in October, but in November, Defense Secretary Leon Panetta stunned many by announcing that Allen was being investigated for potentially inappropriate e-mail exchanges with a Florida socialite, Jill Kelley. Panetta put Allen's nomination on hold.
Last month, shortly before Allen completed a 19-month tour as the top US commander in Afghanistan, the Pentagon announced that Allen had been cleared of any wrongdoing and the White House said it was prepared to renominate him for the Europe job.
Even so, it was not clear that Allen would choose to go ahead with a Senate confirmation hearing, given the nature of the e-mail probe.
An Iraq War veteran with a reputation as an astute strategist, Allen took over in Kabul in July 2011, succeeding General David Petraeus, who quit to become CIA director.
Allen said retiring from the military was "the only choice I could make". Although he did not explain his reasons in detail, Allen said "my primary concern is for the health of my wife, who had sacrificed so much for so long". He served 38 years in the Marine Corps.
In a written statement on Tuesday, Allen he wants to focus on helping his wife, Kathy, cope with health issues. He was not specific about her ailments, but The Washington Post quoted Allen on Monday as saying that his wife suffers from a combination of chronic health issues that include an autoimmune disorder.
"The reasons for my decision are personal," Allen said in his statement. "I did not come to it lightly or quickly, but given the considerations behind it, I recognized in the end it was the only choice I could make."
(China Daily 02/21/2013 page12)
Today's Top News
Editor's picks
Most Viewed