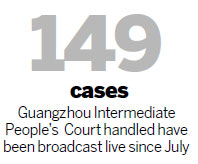 Guangdong High People's Court has published a white paper on how the court has dealt with scrutiny from netizens during a number of high profile court cases.
The white paper also explores ways the southern province can make court proceedings more transparent.
Publication of the white paper will help advance judicial reforms and bring court trials under greater public supervision, Zheng E, president of Guangdong High People's Court, said on Tuesday.