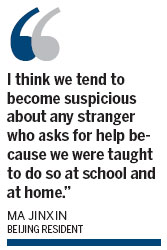 Trust among people in China dipped to a record low with less than half of respondents to a recent survey feeling that "most people can be trusted" while only about 30 percent trusted strangers.
The Blue Book of Social Mentality, the latest annual report on the social mentality of China, analyzed respondents' trust toward different people and organizations and drew a conclusion that trust in society is poor. The trust level was 59.7 points out of a full mark of 100 points.
In 2010, the trust level was 62.9 points.