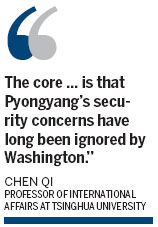 Washington must shoulder its responsibility to solve the Korean Peninsula issue and review its policies, observers said.
Their call came as Washington and Tokyo meet this week to discuss Pyongyang's latest nuclear test.
The United States should take the major share of blame for rising tensions on the peninsula, and it is time for Washington to adjust its policies toward the Democratic People's Republic of Korea, said Wang Junsheng, a researcher on East Asian studies with the Chinese Academy of Social Sciences.