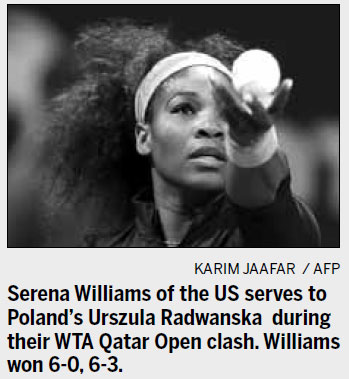 Serena Williams needs only one more win to become world No 1 for the first time in 2 1/2 years after reaching the quarterfinals of the Qatar Open in double quick time on Thursday.
It took the 15-time Grand Slam title winner less than an hour to complete a 6-0, 6-3 win over Urszula Radwanska, the world No 37 from Poland, and to take herself to the brink of another remarkable achievement.
A year ago, after a series of injuries, Williams' career seemed in danger. Now, after triumphs at Wimbledon, the US Open and the Olympics, and struggling against ankle and back injuries and a cold this week, she is almost back to where many believe she deserves to be - at the top again.