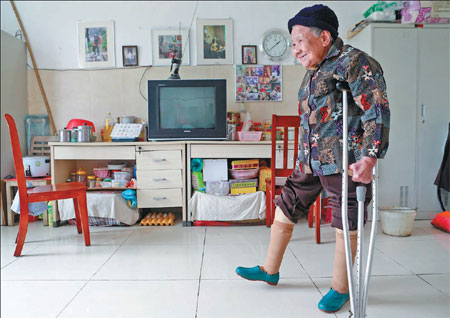 Huang Shaokuan moves slowly around her ward in Si'an Hospital in the city of Dongguan, on the Pearl River Delta in Guangdong province, always seeming to be waiting for someone. She was born in 1929, the Year of the Snake in the Chinese zodiac, and will be 84 this year. She was stricken with leprosy when she was only 8, and, at 24, was put into quarantine on Daqin, a remote island for sufferers of leprosy, near the city. Several years ago, the authorities moved all the island's patients to Si'an Hospital, which was better equipped to deal with their problems. Huang has eight sisters, four of whom came to visit her at the hospital, on Jan 13. She said it was the happiest day she'd had for years. Feng Yongbin / China Daily
Editor's note: As the Chinese New Year celebration brings in the Year of the Snake, China Daily's photographers and correspondents have been looking for people from across the nation who were born in the Year of the Snake to tell their tales.
One woman they discovered is a victim of leprosy who is spending her twilight years in a Guangdong province hospital. Another, a new employee, likes working on jigsaw puzzles and hopes for a bright future in Beijing. Yet another, a female migrant worker who is expecting, feels lucky that the new child will share the same Chinese zodiac sign with its mother. A fourth, a teenager in Sichuan province, hopes she will have little homework and more time to play during the New Year. A fifth one is a high school art teacher who wants to go to the countryside of Russia to do some painting and drawing. The sixth one is a basketball player from the United States, who plans to lead his team, Beijing Ducks, win another league title in China.
While these people are at different stages of their lives, they all share one thing - a birthday in this Year of the Snake. So, let's hear their tales and wish them all the very best on their shared birthdays.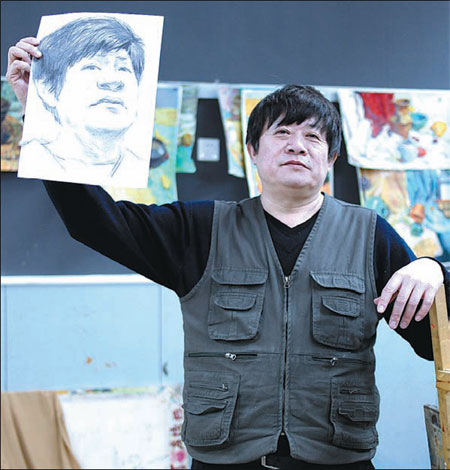 Cao Xiaobao is a Beijing high school art teacher, seen here holding up a portrait of himself done by one of his students, on Jan 22, in his school's studio. Cao was born in 1953, so he will turn 60 this Year of the Snake. He's currently helping some seniors prepare for the national college entrance exam and is busy with his daily work, but quite happy. He says that, at his age, there's generally a feeling of peace and quiet when you face difficulties and he has almost no troubles to worry him. His one hope, though, is to be able to travel to the countryside of Russia, a place with beautiful scenery that can help him create some good art works. Wang Jing / China Daily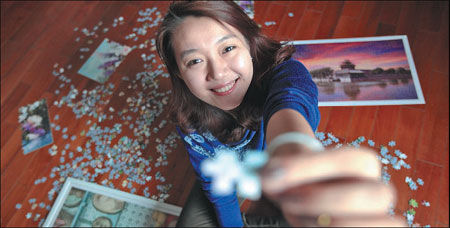 Wang Xiunan, a native of Beijing, is sitting on the floor of her Beijing home, picking up a piece of a jigsaw puzzle. She says that she always did the right thing and was a hard-working student, beginning with primary school and on through university. She had some exciting moments at the Beijing Olympics, in 2008, as a volunteer, then became a reporter for a news agency after graduation. The job gives her more chances to get in touch with society, she explains, and says she was moved one time when she saw a cancer patient's optimism. She also experienced the difficulties of a migrant worker's journey home for Spring Festival, and, as a newbie, is still trying to adapt to her job and society at the same time. Sometimes she's a bit confused about the future, but hopes that her life will be a full one and come together piece-by-piece, just like her hobby, the jigsaw puzzle. Wang will be 24 this Year of the Snake, and says her hope is that she can take on some assignment all by herself and spend each day without regret. Cui Meng / China Daily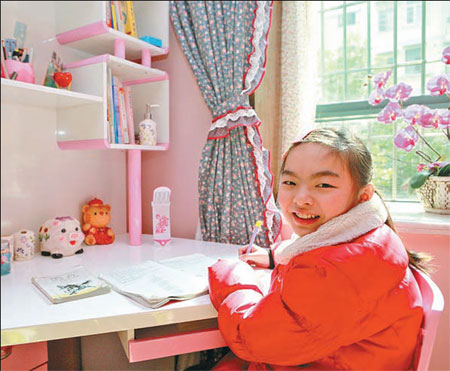 Lan Yinglu is seen here, at home, doing homework, in the city of Neijiang, Sichuan province, on Jan 23. Lan was born in 2001, another snake year, and will see her first snake year birthday this year. As a middle school student, Lan's biggest worry is that she simply has too much homework. She barely has any time to rest after finishing her homework every day and dreams of her teachers giving her less homework this year, so she can spend more time with her piano. Meanwhile, Lan has her sights set on building a snowman and having a snowball fight with her father on a snowy mountain nearby, during the Spring Festival holiday. Lan Zitao / for China Daily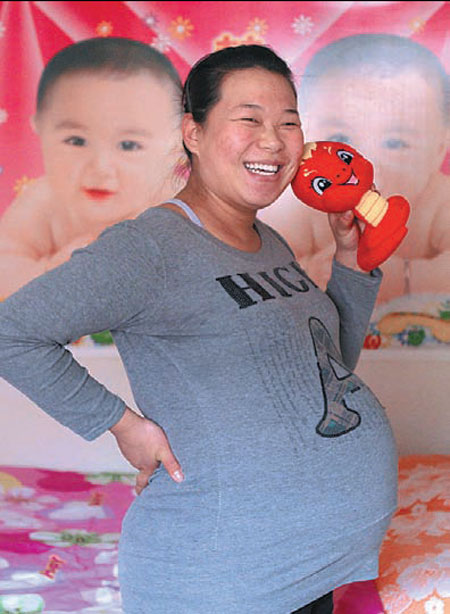 Zhou Xiaoxue is seen standing here, holding her snake mascot, at home in Beijing's Daxing district, on Jan 22. She left her real hometown, Qiqihar in Heilongjiang province, back in 2006, to look for a job in the Chinese capital and found one in an automobile factory. To save money, Zhou rents a room in the city suburbs where she pays 350 yuan ($60) a month. She was born in 1989, another Year of the Snake, and will be giving birth this month. She says she's really happy that her baby will also be a Year-of-the-Snake child. Zou Hong / China Daily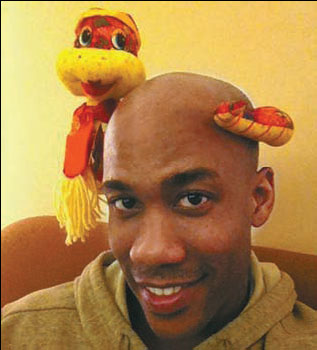 Stephon Marbury, Beijing Ducks' former NBA All-Star guard, poses with a snake toy around his head at his apartment in Beijing on Jan 21. Born in 1977, the Year of the Snake, the New York native joined the Ducks in 2011 before leading the team to its first CBA champion in 17 years last March. Reinventing his career with huge support from Chinese fans, he vows to defend the league title together with his teammates in the Year of Snake. He even expects to coach the Chinese national team in the near future. "This is my year. Year of Snake baby. If you are a snake, show love to the snake. Love is love!" he says on his micro blog. Provided to China Daily
(China Daily 02/13/2013 page6)