TCM found to be 'poisonous' in HK sells on mainland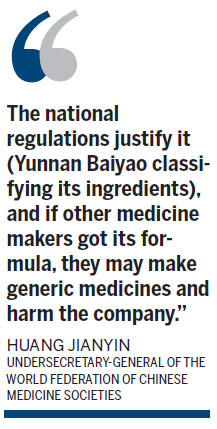 Traditional Chinese medicine Yunnan Baiyao has not been recalled on the mainland despite Hong Kong health authorities claiming to have discovered "undeclared" poisonous ingredients in some batches of the product and ordering it to be taken off shop shelves.
The Department of Health of Hong Kong announced on Tuesday that it had tested samples of capsules, powder, plaster, aerosol and tincture of Yunnan Baiyao distributed by wholesaler Fung Wah (Hong Kong) Co, and found they contained "undeclared aconitum alkaloids".
"According to the products' registration details and the Chinese medicine literature, the ingredients in the products cannot account for the presence of aconitum alkaloids as detected," said the department in its statement.

Today's Top News
Editor's picks
Most Viewed