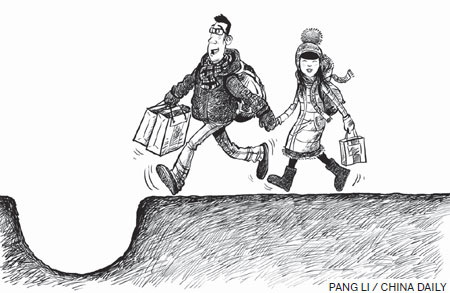 Spring Festival is all about family reunions and that all-important dinner on Lunar New Year's Eve. It is also a time for young eligible people to face a barrage of questions from parents and elders about finding a life partner and settling down. So what do youths who have no plans to tie the knot any time soon do to avoid the inquisition? They rent a "boyfriend" or "girlfriend". And what better place to get one than the Internet, for example, on Taobao.com, China's largest online marketplace, which seems to be the most popular site offering such deals this year.
The current rate for hiring a boyfriend is between 1,500 yuan ($240) and 2,000 yuan a day. The boyfriend has to accompany his "client" to her parents' home, meet relatives and friends, have dinner with them, watch movies, go shopping and even kiss her, if needed. Of course, the client has to pay for his round-trip tickets, accommodation and daily necessities, and provide him good clothes to look presentable as well. Additional services are negotiable. For instance, a kiss out of courtesy can cost 50 yuan and sleeping in the same bedroom as the "client" can cost anywhere between 300 yuan and 600 yuan.
Interestingly, many netizens don't seem to mind discussing even the minute details of the "contract". The online rental service, which started hesitatingly some years ago, has spread to even some leading websites today.