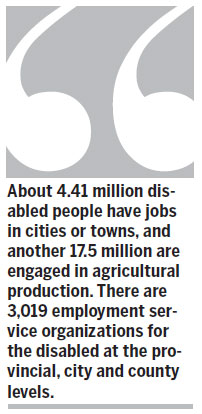 Government has introduced legislative, administrative and judicial measures to guarantee the rights of disabled people
The 2013 World Human Rights Report released by New York-based Human Rights Watch criticized China for failing to fully protect disabled people's rights. But facts speak louder than words.
There are 85 million disabled people on the Chinese mainland, 6.3 percent of the overall population, and China was one of the earliest countries to advocate, promote and actively support the UN's Convention on the Rights of Persons with Disabilities. The government has paid great attention to fulfilling the obligations of the Convention, and based on China's reality, it has introduced legislative, judicial and administrative measures to guarantee the implementation of the terms of the Convention.