Li wants more efforts made on shantytowns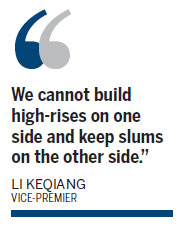 Vice-Premier Li Keqiang called for greater efforts to rebuild shantytowns in cities nationwide during a visit on Sunday to Baotou, the Inner Mongolia autonomous region.
Local authorities should renew efforts to rebuild shantytowns and devise concrete timetables and plans to improve the living conditions of the more than 10 million households nationwide still living in large-scale shantytowns, Li said at a conference held in Beiliang, a shantytown in Baotou.
Li said rebuilding shantytowns is an obstacle that must be conquered in the urbanization process.

Today's Top News
Editor's picks
Most Viewed