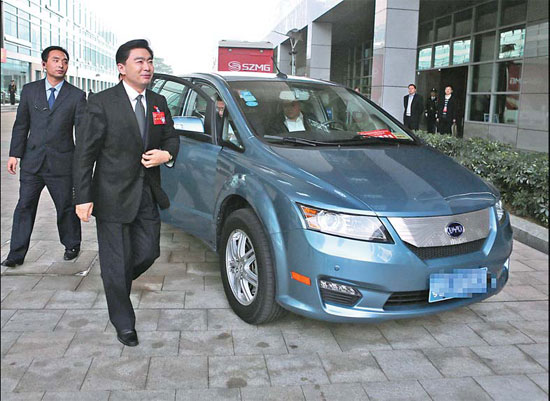 Wang Rong (front), Party chief of Shenzhen in Guangdong province, arrives in a BYD E6 electric car at a meeting of the city's legislature in January. Wang has long used the car for official business. Provided to China Daily
Foreign brands could take more of backseat in wake of official spending curbs
The central government's recent announcement of a clampdown on extravagance and waste is expected to boost the country's domestic carmakers, as provincial authorities start to reject the use of foreign-brand vehicles.
Cui Dongshu, the deputy secretary-general of the China Passenger Car Association, said that the government's previous appeal for the use of domestic brands had "fallen on stony ground".
However, he said its latest urging of austerity should "definitely provide a big step forward" for locally made cars.
"Domestic brands should grab that opportunity, in a market long-dominated by foreign rivals," he added.
Authorities in Gansu province have already become the first to ask all its offices to buy domestic brands if they need new cars.
Its move was followed by counterparts in the Ningxia Hui autonomous region, the Xinjiang Uygur autonomous region, Hunan province and Shanghai.
Wang Rong, the Party chief of Shenzhen in Guangdong province, recently replaced his official Audi A6 with an electric car produced locally by BYD Auto Co Ltd.
Officials at the provincial government in Guangdong province have also been assigned cars produced by Guangzhou Auto Trumpchi, for the local people's congress.
"Using homegrown branded vehicles as official cars will set a good example and influence more individual users to buy local cars," said Cui.
"The move by local and central government officials will hopefully set off a public trend for less-expensive domestic vehicle brands.
"In the past in China, it has been a sign of prestige to own a foreign car, and officials have followed that trend to demonstrate the difference between them and ordinary people. But that could be set to change," he added.
Government procurement accounts for less than 2 percent of the Chinese car market, but "the trend followed by individuals is harder to predict", said Cui.
Statistics show that almost 90 percent of vehicles bought by the government up until 2010 were foreign brands.
But the government's support for domestic brands decreased that to 80 percent by the middle of 2011.
Li Yuheng, an auto analyst with Guosen Securities, said that the trend will gradually start to affect foreign brand buying, giving struggling homegrown manufacturers the confidence to take on foreign rivals.
According to figures from the China Association of Automobile Manufacturers, in 2012 China's domestic automobile sales jumped 4.3 percent over the previous year to 19.31 million units.
However, the share of domestic brands in that market dropped by 0.4 percentage points.
lifangfang@chinadaily.com.cn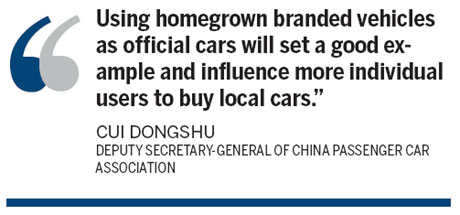 (China Daily 02/05/2013 page15)