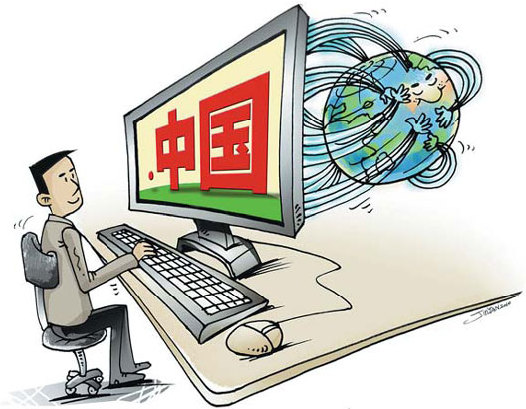 An increasing number of Chinese people are realizing the value of Internet domain names. Those who manage to buy good names can make a lot of money. By the end of 2012, China had 13.4 million domain names registered in the country, a 73.1 percent year-on-year increase, according to China Internet Network Information Center. Jin Yan / For China Daily
Shen Jingtao, a 19-year-old college student in Shanghai, bought an Internet domain name for 50 yuan ($8) because he believes it may eventually be worth a fortune.
Experts say he may be on to a winner. Investment in Internet domain names could become a lucrative business. With a small sum of money it is possible, by choosing the right address, to earn a six-digit dollar return overnight.
This year is especially important for young investors in China who aspire to spot domain names with a commercial value because their number will significantly expand when China starts testing Internet Protocol version 6 (IPv6), an upgrade from the current IPv4, in order to increase overall Internet use across the country.
"Domain names are important resources, just like addresses in realty development. Those who spot a potentially prestigious title can make a fortune from investing in domain names. Those who get good names can make great money," said Shen.
For Shen and many of his peers, who are young and lack capital, investing in Internet domain names is a low-cost and low-risk business.
"If you look at the growth of Internet domain names in China, you will see a huge market and great potential in the sector," said Shen.
By the end of 2012, China had 13.4 million domain names registered in the country, a 73.1 percent year-on-year increase. Among all these names, about 7.5 million, equal to 56 percent, end with ".cn", a 112.8 percent year-on-year increase. More than 280,000 domain names end with ".", the Chinese-character-version of ".cn", according to the latest report on the development of the China Internet Network Information Center.
Some 4.8 million, equal to 36 percent of domain names, end with ".com", the CNNIC report said.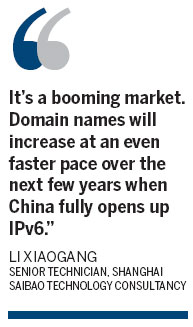 "It's a booming market. Domain names will increase at an even faster pace over the next few years when China fully opens up IPv6," said Li Xiaogang, a senior technician with Shanghai Saibao Technology Consultancy Firm.
Li said upgrading IPv4 to IPv6 will release more domain names, which may be a double-edged sword for experienced investors.
"Those who enter the market later may have more cash liquidity and may register some names carrying the most up-to-date meanings and therefore sell better. Meanwhile, those who enter the market earlier may have an advantage in that they already own short names that are more appealing to e-commerce business owners who are the major buyers of domain names," said Li.
Yu Wenjing, a 30-year-old Shanghai-based domain names investor, said the key to making a profit from domain name investment is to be focused.
The value of a domain name mainly comes from the image it conveys. It must be linked to a commercial industry or appeal to people's feelings. Without focus and in-depth research into a specific industry, an investor is unlikely to attach a meaning to the domain name, making it not worth trading.
One of the most expensive domain names sold in 2012 was giftbasket.com. It went for $350,000, according to DN Journal, a domain name industry news magazine.
Yu said he has enjoyed some success from trading domain names. One consisted of three digits and ended with ".cn", a "short number" category favored by Yu.
"Short number" domain names are usually favored by digital device makers or telecommunication operators. Some numbers are regarded as auspicious in certain cultures and trades and consequently are especially popular among enterprise owners.
Yu said he bought the name for more than 10,000 yuan and sold it for more than 100,000 yuan - a yield of 10 times the cost.
Yu declined to detail the precise amount he bought and sold the name for because he regards it as commercial privacy.
Another domain name was short and in pinyin. It (fuyun) sounds like "floating cloud" in Chinese, he said.
"I bought it without realizing it could be regarded as something precious, because when I first saw this name I just felt it created a beautiful image. I did not expect that someday it would turn into a symbol for cloud computing," said Yu.
"Sometimes it takes a bit of luck to be profitable in this trade," said Yu.
Zhang Zihao, an information consultant with a Shanghai-based technology firm, said investors also need to think about the challenges that increasing coding applications set on domain name trading.
"A surging number of Internet users in China are getting access to Internet websites via smartphone applications and Quick Respond codes, which are much easier than typing the domain names and waiting for the browser to direct them to the website," said Zhang.
In the near future, domain names may even be replaced by logos, QR codes or even voice input and other means that connect web users and the information on websites.
"After all, domain names by their nature are just gateways to information," said Zhang.
wuyiyao@chinadaily.com.cn
(China Daily 02/04/2013 page13)